220 students are first graduates of Yukon University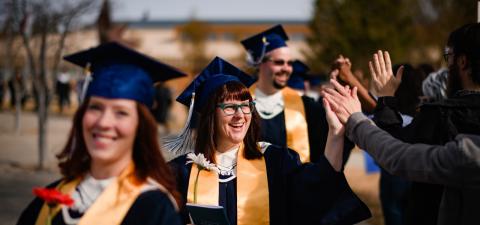 June 10, 2020
WHITEHORSE, YT—220 graduates from 32 certificate, diploma and degree programs make up the first graduating class of Yukon University, Canada's first university north of 60°.
The YukonU class of 2020 includes 55 students graduating with honours, and the first graduates from the Bachelor of Arts in Indigenous Governance, Community Education and Employment Support, Climate Change Policy, and Yukon First Nations Arts programs. Twenty-two students are graduating from the Practical Nurse and Health Care Assistant programs.
Given the challenges of celebrating in person this year, Yukon University is inviting graduates, their families, friends and the wider community to join a digital celebration to recognize and applaud the hard work, commitment and accomplishments of the class of 2020. Full details can be found at YukonU.ca/grad2020.
"We are immensely proud of each of our graduates and want to be sure they feel celebrated for the momentous milestone they have achieved in reaching graduation," said Karen Barnes, Yukon University president and vice chancellor.
Starting today, June 10, proclaimed as Yukon Graduate Day by Commissioner of Yukon Angélique Bernard, graduates can add a YukonU Grad 2020 Facebook frame to their profile picture. Family and friends can also use a frame to highlight and congratulate their graduate.
Graduates, family, friends and community are also invited to post images, stories, and messages on the YukonU Facebook page, or to their own Instagram, LinkedIn or Twitter accounts including #YukonUGrad2020 in the message.
Packages are being created for each graduate containing their official credential parchment, transcript, graduate cap, YukonU pin, a letter of congratulations from President Barnes, a commemorative program and a special YukonU gift.
Graduates will receive their package via mail later this month and are encouraged to share unboxing videos and images of themselves in their cap or with their parchment.
The class of 2020 is also invited to join 2021 Convocation celebrations set for next May. 
For more information, please contact: