YukonU Foundation launches campaign to support students affected by COVID-19 response measures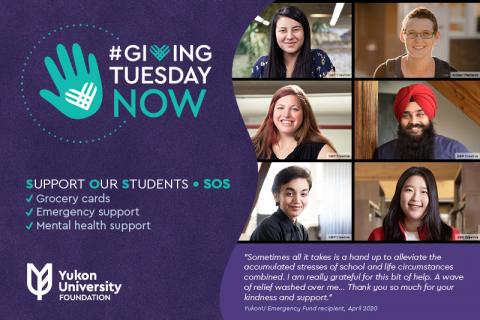 May 14, 2020
WHITEHORSE, YT—The Yukon University Foundation launched a new giving circle campaign today to mark #GivingTuesdayNOW.  
The SOS (Support Our Students) North giving circle campaign is raising funds to support students and recent graduates into the spring and summer with food security, increased access to the student Emergency Fund, as well as access to mental health and Elder on Campus supports via phone, email or video conference technology. 
"Normally, at this point in the school year students are leaving to take on summer jobs or start a new career. This year is unprecedented. For many, part-time work has ended due to the pandemic and summer employment is unavailable, leaving students unable to meet their basic needs," said Wally Rude, Registrar and Dean of Enrolment Services. 
Rude added that supports for students, including access to the emergency fund, usually close during the spring and summer, but there is real need to keep the supports available this year. 
"Maintaining supports for students beyond May 1 is not something we have planned or budgeted for. The Emergency Fund is depleted and assistance provided by generous donors for the SOS North giving circle will directly help students and recent graduates as they cope with the unexpected challenges of COVID-19 and continue to meet their education and career goals," said Rude. "This campaign will also help replenish the Emergency Fund for the Fall Semester where we are also anticipating a higher need than usual." 
Donors wishing to gift any amount can do so via YukonU.ca. 
Students or recent graduates needing support with food security, mental health or a financial emergency should connect with a financial aid advisor or counsellor.  
The College has temporarily relaxed submission requirements for the Emergency Fund so that students who have previously received support in 2019-20 may do so again in the next few months.  
The Student Emergency Fund is usually funded via employee donors and private donors, which is enough to provide emergency support to students during the Fall and Winter semesters.  
#GivingTuesdayNOW is an international day of giving and unity to meet the unprecedented need caused by COVID-19. The May 5 global day of action aims to rally people around the world to tap into the power of human connection and strengthen communities at the grassroots level. All Canadians are invited to join in and demonstrate the power of kindness and generosity. 
This is a spin-off of #GivingTuesday which takes place each November following the Black Friday and Cyber Monday sales days, to encourage generosity alongside those consumer-focused days. More information on Giving Tuesday can be found at GivingTuesday.ca. 
Yukon College will officially become Yukon University on May 19. 
For more information, please contact: