Millwright students complete program despite pandemic; one grad heads to Victoria Gold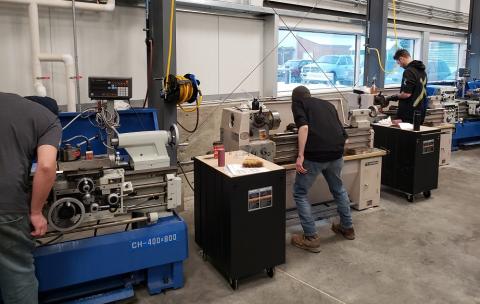 May 14, 2020
WHITEHORSE, YT—Despite response measures to the COVID-19 pandemic ending face-to-face classes and workshop access, all five Yukon College Pre-Apprentice Millwright students successfully completed the program this term.
Cody Joe, Glen Carpenter, Fathallah Bouchama, Marshall Michaud and Aaron Mendelsohn are now eligible to be hired as Level One Millwright Apprentices.
"This was a strong cohort of students. They were very committed to the program and remained so even after we switched to online delivery," said Logan Sherk, Millwright instructor.
According to Sherk, by the time pandemic response measures were initiated, students had completed most workshop projects and all theory components. Continuing the program meant a switch to online assignments and quizzes to ensure they retained key knowledge. It also meant that planned final projects were not completed.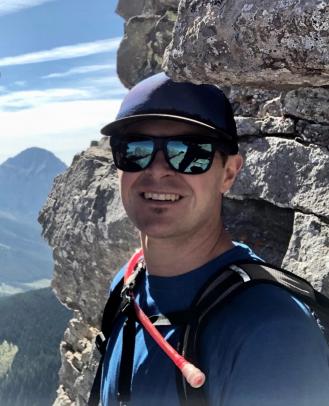 "The final project is an opportunity for students to showcase the skills they've gained through the program. Fortunately, we had completed all the practical assignments where students develop new skills — so, while the class was saddened to lose access to the workshop, they all possess the necessary skills to embark as millwright apprentices," added Sherk.
Glen Carpenter heard about the program from his friend, Jeff Stokes, who graduated in 2019 and now works at Mount Sima Ski Hill. Carpenter moved with his wife to Whitehorse from Southern Alberta last year to enrol at the College in January.
"The milling and lathe work were all new to me, so I appreciated the amount of shop time built into the program. Logan would hand us a tool or component design and we had to make all the measurements and figure out how to create it — challenging, but very rewarding when you do it well," said Carpenter.
Carpenter plans to remain in Whitehorse and is seeking apprenticeship opportunities with local companies in the field of facilities maintenance.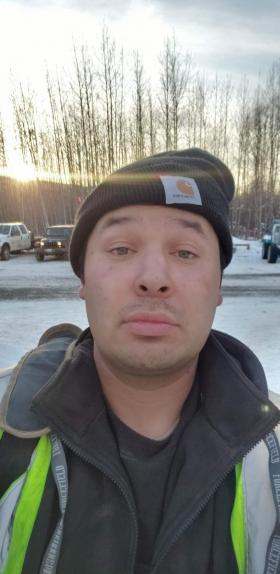 Cody Joe is a Champagne and Aishihik First Nations citizen who has already been hired by Victoria Gold's Eagle Gold Mine, near Mayo, Yukon. He is due to begin May 13 as a maintenance labourer, supporting the onsite millwright and welding journeymen.
Joe has worked for several years in exploration drilling and is keen to experience a different part of the mining industry,
"I'm excited to get there and begin work. The program was fantastic. I loved working with all the machinery, and the small class size meant there was a lot of one-on-one time with Logan," said Joe.
Joe is hopeful this will develop into an apprenticeship after he successfully completes the probationary period.  
Currently at the Eagle Gold Mine, Yukoners make up approximately 51% of the workforce. Victoria Gold has implemented a thorough COVID-19 action plan at the mine which meets and exceeds regulations established by the Yukon Chief Medical Officer.
"The health and safety of our employees, contractors and local communities is the most important aspect of our business," said John McConnell, Victoria Gold President and CEO.
"We're pleased to work with Centre for Northern Innovation of Mining at Yukon College to further the education of Yukoners and offer meaningful employment for qualified graduates. We are very pleased to have Cody Joe join the Eagle Gold Mine Team as a labourer for Fixed Maintenance," added McConnell.
Both Carpenter and Joe will be recommending Millwright Pre-Apprenticeship to friends and family.
"Millwrights are in demand, so I'm definitely encouraging people to take a look at the program. It may feel intimidating at first, but there's a lot of support from Yukon College to help you succeed," said Joe.
Pending updated COVID-19 response measures, the Millwright Pre-Apprentice program will run again in January 2021.
In addition to the Millwright grads, 10 Level Four Electrical Apprentices, and 10 Level Three and Four Carpentry Apprentices were able to complete their theory classes online this term.
The Pre-Apprentice Carpentry program had to be suspended and training will pick up again once pandemic response measures can be eased, and face-to-face instruction and workshop time can continue.
Yukon College will officially become Yukon University on May 19.
For more information, please contact: