Yukon College COVID-19 response: online classes, limited services until end of April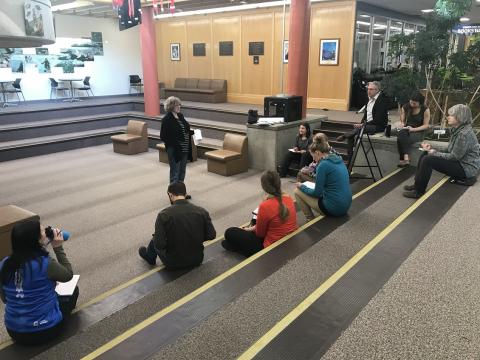 March 17, 2020
WHITEHORSE, YT—Following the request from Yukon's Chief Medical Officer of Health to limit gatherings and support working from home, Yukon College is moving to alternative service and class delivery for the foreseeable future. 
In an email sent late yesterday, students are told not to return to campus on Monday, March 23 following Reading Week. 
During Reading Week there are no classes and reduced services at all campuses. Faculty and staff are using this time to work out the details of this change in service in the next few days and shifting to working from home this week wherever possible.  
For the remaining six weeks of the Winter Term, it is anticipated that some classes may wrap up early, or students can access class materials and their instructor remotely at the usual class time via Zoom software or access materials and video lectures at any time via the Moodle platform.  
For students at the Yukon School of Visual Art in Dawson City, classes for the remainder of the term have been cancelled. Students are expected to complete final assignments and exams from home. 
All students will receive further details from their instructors about their course plan going forward. 
"We have been closely monitoring the local and national situation. Following the latest update from the Chief Medical Officer yesterday, we feel now is the time to implement these measures for the safety of all our students and staff and to proactively help prevent the spread of the COVID-19 virus in Yukon," said Karen Barnes, Yukon College president and vice chancellor. 
"Being that this is an unprecedented and fluid situation, we ask for patience and understanding from students and the public. Our faculty and staff are working hard to minimize the effect on your education," added Barnes. 
Although the transition to Yukon University will continue as planned, at this point it is too early to say if YukonU convocation and transition celebrations May 8 and 9 will be cancelled. Yukon College will provide updates as those decisions are made. 
As of Wednesday, March 18, physical access to all Yukon College campuses will be restricted to essential employees.  
Campus Housing at Ayamdigut campus will remain open. Residents are asked to respect virus-spreading hygiene and social distancing protocols.  
All Continuing Education and Northern Institute of Social Justice classes between Wednesday March 18 and April 30 will be rescheduled where possible. 
During this time, IT support will remain available remotely to students via the online helpdesk service. Also, Counselling, Library, Academic Support Centre, Learning Assistance Centre, Admissions and program advising services will be available via phone, email and video conferencing options to students.  
For students seeking to enrol in Fall term courses, an online registration option will be introduced in April. 
Please visit yukoncollege.yk.ca for any further updates. There will also soon be a list posted of available services and how to access them. 
For more information please contact: