Remembering T'aaḵú Tláa Pearl Keenan, former chancellor of Yukon College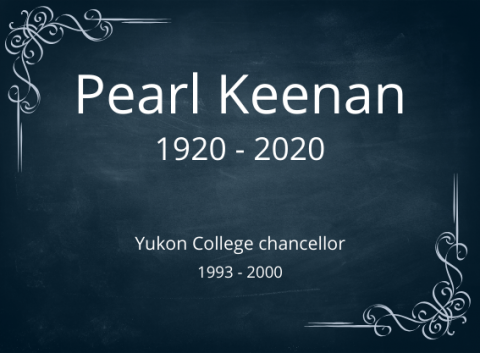 January 31, 2020
WHITEHORSE, YT — The Yukon College community is saddened by the passing of former chancellor Elder T'aaḵú Tláa Pearl Keenan. We offer our heartfelt condolences to her family and friends and the Teslin Tlingit Council. In observance with Tlingit protocol we will not display images of Pearl until after the headstone potlatch.
Pearl was passionate about education and dedicated to the College and all our students. In the 1960s, she was a fierce advocate for a vocational school to provide training, skills and education to Yukoners. The school opened in 1963 and became Yukon College in 1988. 
Pearl then became our longest-serving chancellor, from 1993 to 2000, during a time when the College saw the first graduates of the Bachelor of Education (YNTEP) program, the creation of the Bachelor of Social Work program and establishment of the Northern Research Institute
After serving as chancellor, Pearl remained a valuable resource and support for students. She always attended convocation and as many special events on campus as she could.
Pearl addressed graduates as the keynote speaker at the 2007 convocation ceremony: "You don't have everything on a platter, you have to work for it. Always remember, ahead of you is a road that still has lots of bends in it, and lots of obstacles which could stop you. But so far, they haven't stopped you. Think first — take your time and think things through."
She also expressed solidarity with the faculty present: "It isn't easy being a teacher. It takes a lot of patience."
Beyond the College, Pearl had a huge impact on Yukon and touched many lives. She helped found the Yukon Aboriginal Women's Council and dana Naye Ventures and was one of the first Yukoners to serve on the Yukon Human Rights Commission. She was a Tlingit language teacher, passionate advocate for language revitalization and worked hard for the preservation and promotion of the heritage and culture of Yukon First Nations. 
In 1986, Pearl served as commissionaire for the Yukon pavilion at Expo '86 in Vancouver where she met and spoke at length with Diana, Princess of Wales — a conversation she treasured. Pearl was recognized with the Yukon Commissioner's Award for Public Service and appointed as a Member of the Order of Canada in 2007.
Pearl was very special to us. We are immensely grateful for Pearl's tireless contribution to our lives and work. Her presence, wisdom and support will be greatly missed. 
For more information, please contact: