Yukon College program Future City turns local youth into changemakers
December 12, 2019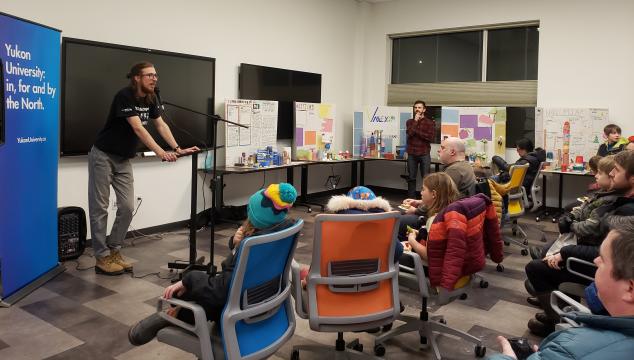 WHITEHORSE, YT— Future City starts with a question – how can we make our city more sustainable? For the first time, Yukon College invited local youth in grades six to eight to share their curiosity and creativity around the topic.  
New this year, the Yukon College Future City program engaged youth and challenged them to imagine what their community will look like in 100 years. Throughout the 12-week program, seventeen students worked in teams to construct model cities. The program wrapped up on Wednesday evening with a presentation of each model city by the five student groups. The youth were joined by their families, City Counsellor Roddick, who acted as a mentor throughout the program and Katy Bosma of Engineers Yukon, who helped make the program and event possible.
In this after-school program, the youth learned how to use the engineering design cycle to identify a problem, brainstorm ideas, design a solution, and then test and refine it. They used their new skills to imagine a hypothetical community and identify what kinds of infrastructure it would need. With sustainability top of mind, they tested their ideas in the virtual city development game SimCity before choosing how to physically construct their model city. 
"It is extremely rewarding to run programs that help youth get excited about science, technology, engineering, and math (STEM)," said Cian O'Neill-Kizoff, coordinator for First Nations & Community Youth STEM Outreach at Yukon College. "The mentorship component of Future City in particular was very special. Local professionals in engineering, planning and politics joined us on multiple occasions to share their career experience and provide feedback on student projects." 
The Future City program was held at NorthLight Innovation. Yukon College Innovation & Entrepreneurship at NorthLight also played host to the Future City wrap-up event that took place last evening. Students presented their model cities to their families and a number of the mentors and facilitators who joined them throughout the program. Among the five projects showcased, there was a coastal city using desalination to treat their water and wind turbines for power and another city on a river designed to make use of hydroelectricity.
City Counsellor Roddick, who provided the youth with insights into how local politics works around the subject area, was one of the mentors present Wednesday.
"It was an honour to be part of this program and meet some of these impressive participants," said City Councillor, Stephen Roddick. "They showed great creativity and ingenuity, and it's exciting to think about how this generation of young Yukoners will shape our future."
The program was delivered for free with financial support from Actua, Canada's largest STEM outreach organization. The City of Whitehorse and Engineers Yukon were instrumental in recruiting guest mentors for the program. Starting again in January, Yukon College will run additional youth STEM programming.
For more information, please contact: