Yukon College student wraps up Quebec exchange
August 21, 2019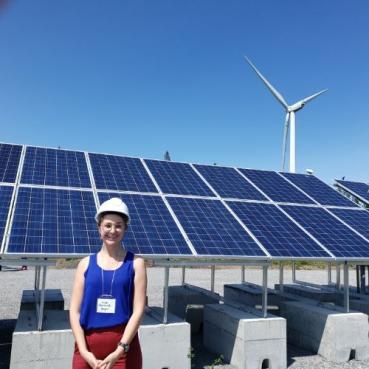 WHITEHORSE— As part of its partnership with Nergica, Yukon Research Centre at Yukon College participated for the first time in an intern exchange. Nergica hosted Yukon College student and research assistant Noah Sternbergh for four weeks in Quebec, while Camille St-Arneault, an intern with Nergica and student at Cégep de la Gaspésie et des Îles was hosted by the Northern Energy Innovation (NEI) team at Yukon College.  

Nergica, based in Gaspé, Quebec is a centre of applied research that stimulates innovation in the renewable energy industry through research, technical assistance, technology transfer and technical support for businesses and communities. Yukon College partnered with Nergica on the collaborative 'opten' project that brings together many players in the renewable energy industry to address common industry problems. One specific piece is looking at smart integration of renewable energies and storage technologies onto microgrids. 

During her time in Whitehorse, Camille worked on solutions aimed at reducing power consumption at peak times in the winter. Whereas, Noah worked on model validation, on models used by NEI for power system impact studies, to determine the impact of renewables on the electric power grid. Noah ran tests on Nergica's live micro grid, which will later be repeated on simulated models of the Nergica grid, to test the accuracy and validity of NEI's modelling techniques. 
 "Participating in this research program has allowed me to engage directly in the field I am interested in and has provided me an understanding of what my career could be like," says Noah Sternbergh. "I met lifelong friends in Gaspé and got to explore a new and beautiful part of the country," she added. 
 Noah is currently enrolled in the general science program at Yukon College. She heads off to Victoria this fall to complete an engineering transfer program at Camosun College and plans to attend the University of Victoria in 2020 for electrical engineering.  
 Camille first heard about the applied energy research being done at Yukon College this past spring when Dr. Michael Ross, NSERC Industrial Research Chair in Northern Energy Innovation, Yukon College, payed a visit to Gaspé. She was not only excited to see how Yukon was adapting to climate change, but was also particularly interested in the Yukon energy grid.  
 
"I love to travel and love to learn. When Dr. Ross came to Gaspé, he spoke about how energy works differently up north in the territories, not only physically but also with respect to working with communities, this really piqued my interest," said Camille St-Arneault. "The mountains, and my travels around Yukon during my time there were also a nice bonus," she added. 
 "Partnering with other collegial institutions like Cégep de la Gaspésie et des Îles provide an opportunity to share expertise between institutions and help us create solutions for our local communities and industry. Furthermore, providing opportunities, like this exchange, to our students allows for a unique experience and can open doors in their chosen field and future careers," said Dr. Michael Ross. 
 The results of Noah's internship, to be analyzed by this fall, help ensure that research conducted by NEI continues to be as rigorous and as accurate as possible. As the institution becomes the first university north of 60, Yukon University next year, they will seek more opportunities for students, faculty and researchers alike to partner and share knowledge across borders.