Yukon College honours diversity and inclusion by flying the Pride Flag at Ayamdigut campus
June 5, 2019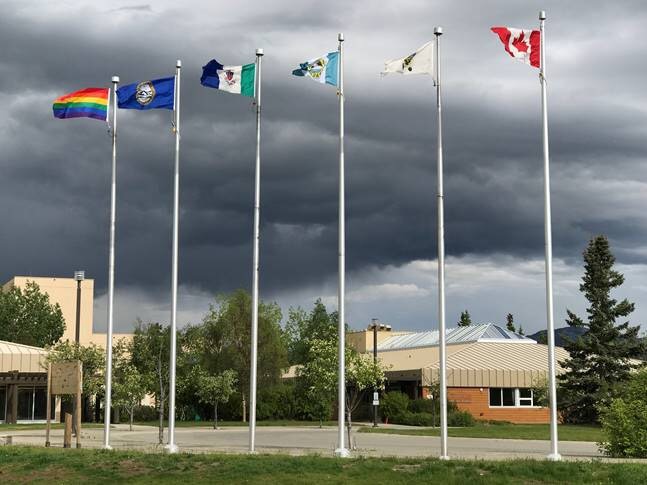 "Yukon College is proud to fly the Pride flag at Ayamdigut campus as a visual demonstration of our commitment to honoring diversity and inclusion. This action also reflects Yukon College's Institutional Value of Inclusiveness and Diversity.
June is National Pride month, a month to celebrate gay, lesbian, bisexual, transgender, queer, and asexual people, plus all other sexual orientations and genders. The month of June was chosen in commemoration of the Stonewall Riots of June 28-29, 1069 in New York City. The riots are seen as the beginning of the gay rights movement across laws that criminalized love and identity. In Canada, Bill C-150 was passed in 1969, introducing important changes to the Canadian Criminal Code that included the decriminalization of private homosexual acts. It has been 50 years with many victories and many setbacks.
In celebration of this month I encourage you to consider the wise words of American actor (perhaps best known for his role as Hikaru Sulu, helmsman of the USS Enterprise in the historic television series Star Trek), author and activist George Takei:
"We should indeed keep calm in the face of difference, and live our lives in a state of inclusion and wonder at the diversity of humanity."
Yukon College has the privilege and responsibility to embed calmness and inclusion into the very fabric of what we do each and every day. We will continue to own this responsibility in our transition to Yukon University. Thank you for doing your part to demonstrate this commitment.
Happy Pride month!"
Dr. Karen Barnes
President and Vice-Chancellor
Yukon College