Aubyn O'Grady named as new program director of Yukon School of Visual Art
May 7, 2018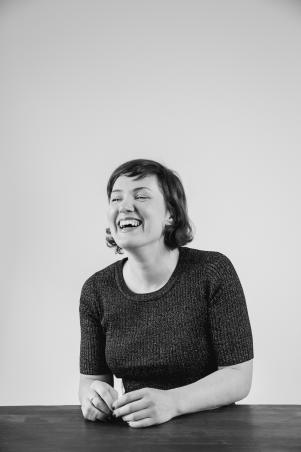 DAWSON CITY—Yukon College, along with its partners Tr'ondëk Hwëch'in and Dawson City Arts Society, is pleased to welcome Aubyn O'Grady as the new program director at the Yukon School of Visual Arts (SOVA) in Dawson City.
It is a long-anticipated return to the territory for O'Grady. She attended SOVA in 2010-11 and stayed on for several years working for Tr'ondëk Hwëch'in and the Dawson City Music Festival before heading south in 2013.
"I am excited to return to Dawson City and SOVA. I am honoured to have this opportunity to support and inspire future generations of northern artists as well as combine my artistic and educational practice," said O'Grady.
In addition to a Certificate in Fine Arts from Yukon College, O'Grady holds a Master of Arts in Curriculum, Teaching and Learning from the University of Toronto and is currently a Ph. D. student at the University of Toronto. Her thesis research investigates the educational and environmental contexts of alternative schools established by conceptual artists.
O'Grady has coordinated post-secondary education and training programs for the Canadian Network for the Detection of Atmospheric Change (CANDAC) and the Department of Atmospheric Physics at the University of Toronto. Since 2015, O'Grady has also worked as a research assistant and archivist with Dr. Stephanie Springgay on her SSHRC-funded research initiative, The Pedagogical Impulse.
"Aubyn is going to bring energy and enthusiasm to SOVA and, as a former student of the School, she brings credibility also. Smart, engaging, and funny--I'm very much looking forward to working with Aubyn on the next chapter at the School. There are some big tasks ahead: growing enrolments and exploring the possibility of an indigenous visual arts program, to name just two—but I believe these projects are in good hands," said Dr. Andrew Richardson, dean of Applied Arts at Yukon College.
O'Grady is also the creator of the national performance art collective, The League of Lady Wrestlers, which began in Dawson City and over five years grew to include sister leagues in Toronto, Montreal and Victoria, and involve over 100 performers. The project received international press coverage and included an outreach program that ran arts workshops for at-risk youth.
O'Grady believes the unique learning environment at SOVA and the community of Dawson City have enriched her career as an artist and educator.  
"SOVA instructors cultivate resourcefulness in the students and the program provides incomparable opportunities for collaboration. Upon graduation, I had participated in two group shows, collaborated with two internationally-renowned teams of artists, contributed to a collaborative publication, and was  planning a solo show for the Confluence Gallery – quite an accomplished CV for an emerging artist," said O'Grady.
"My experience is not an exception; there is a growing community of working artists across Canada that can speak to the benefits of beginning their artistic career at SOVA," she added.
O'Grady will arrive in Yukon in late May and work alongside outgoing interim program director, Eldo Enns, before assuming her new position in June.
For more information, please contact: