Northern Nights: women entrepreneurs' creative collaboration
Friday, November 17, 2023 - 1:20 pm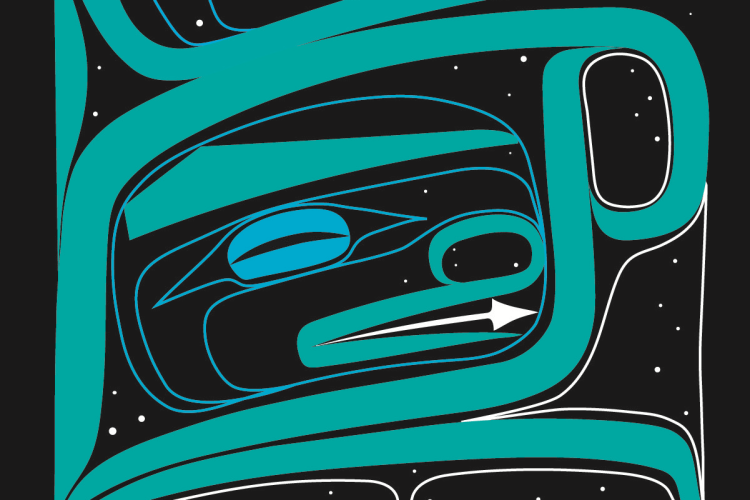 Something powerful happens when women entrepreneurs join forces to create something new.
Long before launching Shaks Chocolate, IncubateNorth participant Shakiba Kazemi nurtured an idea for a collaboration that would combine local chocolate with art. When Inland Tlingit artist and facilitator Guná (Megan Jensen) approached Shak with an idea for a collaboration, it was a "no-brainer." Northern Nights is a limited-edition chocolate box, with artwork by Guná, and Yukon-inspired truffles and bon bons, crafted by Shak. 
Guná shared the following words about her artwork—
"Northern Nights" represents surrendering to the wisdom of the quiet winter that holds endless song, stories and laughter shared around the fire with family. It means a change of season, where the land reminds us to breathe, to be present, and remember what's most important to us."
Shak and Guná grew up in the Yukon with families who supported each other, and the women stayed close over the years. Now they're continuing that tradition through a reciprocal exchange of support as entrepreneurs and as artists. "We both see ourselves as creatives and we're navigating what that's like to go into the business side. Now we have to attach finances, administration, and many things we've never had to experience before," shared Shak.
"It's nice to have a personal connection, be able to call one another and say, 'I'm really feeling the pressure today,' and to have someone in my world who understands."
These women have also shared honestly about the times when they struggled to tap into their best work. That ability for women entrepreneurs to experience, learn from, and share their highs and lows is a powerful force that is shifting the landscape for entrepreneurship in the North and beyond.
Shak reflected that becoming a business owner has involved pushing herself to learn skills she previously thought were impossible, like bookkeeping.
"It's incredibly empowering. Be comfortable with being uncomfortable. That's a superpower," shared Shak.
You can find Guná and Shak's Northern Nights chocolate boxes at the Twelve Days of Christmas Market.
Shaks Chocolate is also available at Cultured Fine Cheese, Gather Café and Taphouse, Midnight Sun Coffee Roasters, Landed Bakehouse, Little Atlin Lodge, and more locations coming soon.
Follow @gunadesigns and @shakschocolate on Instagram.
Artwork by Guná.
---
At YukonU I&E, we're honoured to work with women entrepreneurs from diverse backgrounds who are building meaningful businesses that foster growth and well-being for their communities.
We support women through a variety of services, and our space at NorthLight Innovation is a great place to connect and collaborate with other women on their entrepreneurial journeys.
Learn more: YukonU.ca/innovation