Joel Brennan's journey to build the ultimate SUPStick Land Paddle
Monday, April 24, 2023 - 11:57 am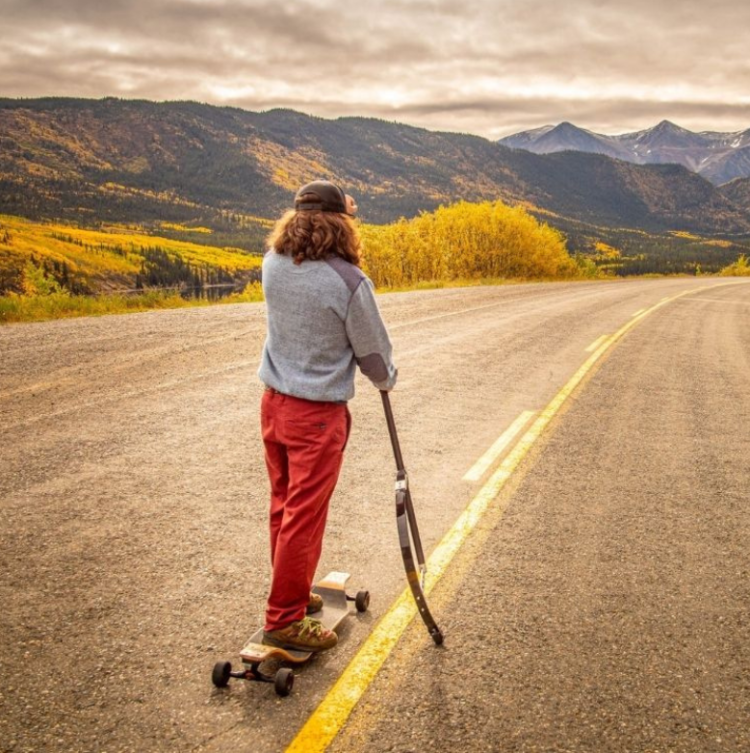 Joel Brennan is an innovator from Whitehorse who developed the SUPStick Land Paddle. Joel grew up paddling, skateboarding and shared how: "I've always known I wanted to be an inventor. From an early age I was inspired by science, technology and the creativity of people."    
Those passions are alchemized in the SUPStick. While teaching whitewater kayaking, Stand Up Paddleboarding (SUP) was just coming on the scene, and Joel envisioned a land paddle for training and recreation. He pitched the idea to Cold Climate Innovation (now YukonU I&E), which sparked a journey to build the first SUPStick prototype.  
Joel dove into the entrepreneurial world by joining Yukonstruct's bootcamp, gathering skills and honing his ideas with support from the community. He was introduced to the business Design 1st, "a one stop shop," which helped him to finalize his designs and set up manufacturing from start to finish.  
Next, Joel worked with our team at YukonU I&E to access funding at several stages along the way, including prototyping, securing patenting and intellectual property: "YukonU I&E's Innovation Fund allowed me to further my project. If it wasn't for I&E, I definitely wouldn't have been able to afford living expenses, and be able to develop a project at the same time. Engineering fees and everything costs an exorbitant amount of money." 
Accessing funding support doesn't stop at the Northlight building – it's just the beginning. Joel continued to make more connections through the funding ecosystem, including working with the Department of Economic Development to develop a website, a marketing campaign and cover the cost of flights to film shoots. Joel also went on to work with the Canadian Northern Economic Development Agency (CanNor), Industrial Research Assistance Program (IRAP), Futurepreneur and the Business Development Bank of Canada (BDC). Joel shared that "I know now how to traverse the ecosystem much easier!" 
"Within the Yukon itself I find there's lots of opportunity for anyone of any age to excel. And with the ability to access funding, it really incentivizes people to take a leap to try something, whether you go through with it or not." 
At I&E, we have the joy of working with innovators like Joel who chase their dreams relentlessly, and share their passion with the community by bringing innovation to life.  
Learn more about the ultimate land paddle, and get on board with SUPStick! 
Photo: Yukan Productions