AirView Yukon technology increases aircraft safety and spatial awareness
Friday, April 21, 2023 - 4:57 pm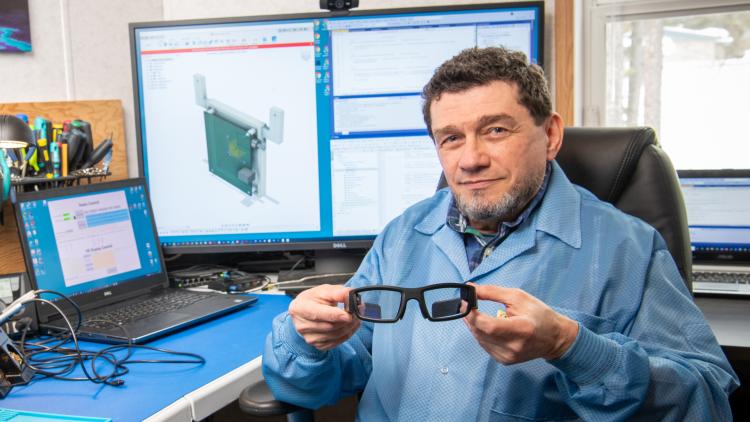 Innovation is not about reinventing the wheel; most times, it can be a small but mighty advancement that improves a product or system. For as long as people have lived, traveled and worked across the territory, innovation has been key to making life safer and more efficient. 
When Nicky Rosenberg learned about serious safety gaps in the GPS used by aircraft, he rose to the challenge to develop technology to assist pilots in poor weather conditions. Not only can GPS signal become blocked by inclement weather, but poor visibility raises the risk of crashes. In the Yukon, GPS data is not always reliable, and terrain maps may not be up to date.  
With a background in electronic engineering, Nicky's goal was to provide pilots with accurate information that can save lives. He began designing specialized glasses that are equipped with sensors. 
Nicky leveraged YukonU I&E's Innovation Fund at two critical stages of his project. The first step was to prove that his idea was feasible—and the result was a fully functioning prototype.   
Our Innovation Fund exists for this very reason: to build your idea in order to see if it will work in the real world. We support Yukoners with ideas for saleable solutions across a multitude of industries, and valuable ideas for products. We provide funding for idea development, design, market research, prototyping, and pilot projects.  
Nicky began testing small, then commercial prototypes of glasses that enable pilots to see thei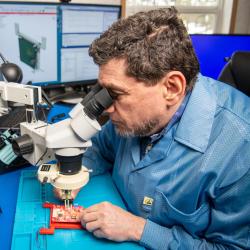 r location in real time, rather than relying on a GPS signal. How does the technology work? Nicky likens his innovation to an "electronic bat" that uses radar and augmented reality to fly with confidence.  
Next, Nicky accessed the Innovation Fund a second time to take his idea to the next level: he applied for both Canadian and U.S. patents, and secured both of them. 
Fast forward to today, and the journey continues as Nicky works to explore the potential for his technology to soar. He is exploring integrating AI (artificial intelligence) into his product, and is working with other companies. Another potential application for this technology is for cars and truck drivers to drive confidently through white-outs from blowing snow.  
Our team is honoured to support innovators like Nicky who have the vision and daring to advance a critical solution that can save lives.
Learn more about AirView Yukon products and services. 
Photos: Cathie Archbould/Archbould.com
Now it's your turn: do you have an innovative idea, prototype or product that you're considering turning into a business? Our team is here to support you, whether you are developing the basic principles or preparing for deployment of your idea.  
Learn more and get in touch about our Innovation Fund.