EDI Down to Earth Biology Award
EDI would like to provide a $1,000 award to a second year Yukon University student in the Renewable Resources Management, Northern Science, Northern Science (Environment and Conservation Sciences stream) or Northern Environmental and Conservation Sciences programs.
Donor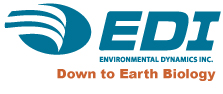 EDI Environmental Dynamics Inc. focuses on living things and where they live. A consulting company with over two decades of experience, EDI offices can be found in seven locations in western and northern Canada. In the Yukon, EDI has worked for developers, First Nations and governments and has developed a reputation for providing practical advice and effective results.
Eligibility
Be a Canadian citizen or permanent resident
Be registered full time in: year 2 of Renewable Resources Management, Northern Science or Northern Science (Environment and Conservation Sciences stream) diploma OR year 3 or 4 of Northern Environmental and Conservation Sciences degree
Have a GPA of 3.0 (B) or higher
Write an essay (max. 500 words) on The Role of Environmental Consultants in in the Yukon
Requirements