Audrey McLaughlin Award in Social Work
This $500 award was established in 2016 by the friends of Audrey McLaughlin in honour of her 80th birthday.
Donor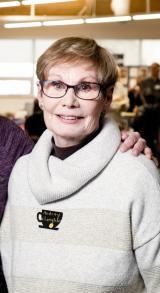 Born in Ontario, Audrey McLaughlin was executive director of the Canadian Mental Health Association and a social worker in Toronto prior to moving to Whitehorse in 1979. In Yukon, Audrey opened a consulting business, working on projects such as child welfare legislation and research on land claims and aboriginal self-government.
In 1987, Audrey was recruited to run for the New Democratic Party nomination which she won, going on to win the federal by·election later that year. The first New Democratic Party MP ever elected in Yukon, Audrey distinguished herself in the House. She was chosen Party Leader two years later - the first woman to lead a national political party in Canada. Audrey remained party leader until 1995 and represented Yukon as Member of Parliament until 1997.
Audrey holds a Masters of Social Work from the University of Toronto and honourary doctorates from the Universities of Toronto, Guelph and Northern British Columbia.
An Officer of the Order of Canada, Audrey continues to be an active community volunteer and a strong advocate for democracy, peace and public service at home and in developing nations throughout the world.
Eligibility
Be a female Canadian citizen or permanent resident
Have been a Yukon resident for a minimum of two years as of the date of the award application
Be registered full-time in Yukon University's Social Work program
Be an active community volunteer
Write a short essay (max. two pages) describing:

your volunteer roles and responsibilities
how this experience, and your education, will support your career goals
Requirements
Indicate how long you have lived in the Yukon as of the date of your award application
NOTE: Preference will be given to applicants who are returning after an absence of at least one year from educational studies. Second priority will be given to applicants whose community service and career goals reflect Audrey's passion for democracy and/or public service.