Exploring human experience in the North
The Northern Review is a peer-reviewed open access journal publishing research and book reviews that explore human experience in, and thought about, the North, including the territorial and provincial Norths of Canada and the Circumpolar North.
The journal is the only peer-reviewed publication in Canada devoted exclusively to northern issues and published north of 60. Since 1988, we have published articles covering a broad range of human issues and topics in the social sciences, humanities, health, law, and the arts.
The editors invite research articles and book reviews relating to human experience in, and thought about, the Circumpolar North.
Links below guide you to the journal's open access content on our Open Journal Systems site: thenorthernreview.ca
Questions? Email Deanna McLeod, Managing Editor
Register as a reader to be notified when we publish new issues.
Follow us on social media
Current Issue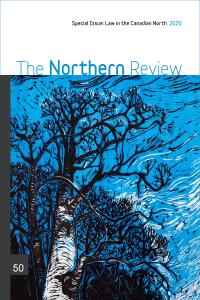 Number 50 | 2020
https://doi.org/10.22584/nr50.2020.100
Law in the Canadian North
Guest edited by Chief Justice Ron Veale, Justice Suzanne Duncan, Ken Coates & Bruce Warnsby
Cover artist: Martha J. Ritchie | "Trees II"
Spring 2020
Forthcoming Issues
Special Issue
Indigenous Self-Determination through Mitho Pimachesowin: Perspectives from Northern Saskatchewan
Guest edited by Bonita Beatty, University of Saskatchewan
March 2021
General Issue
Spring 2021
Back Issues
Number 49 | 2019
https://doi.org/10.22584/nr49.2019.100
General articles & book reviews 
Special Collection: Place Based Sustainability Research in the Provincial North
Guest edited by Rebecca Schiff, Lakehead University
Cover Artist:  Paul Josie | "Sunrise on the Porcupine River/Ch'oodeenjik, Yukon"
Published online February 20, 2020
Number 48 | 2018
https://doi.org/10.22584/nr48.2018.100
General Issue
Cover artist: Leslie Leong | "High Altitude e-Scape"
Published online October 18, 2018
Number 47 | 2018
https://doi.org/10.22584/nr47.2018.100
Dealing with Resource Development in Canada's North
Guest edited by Chris Southcott
Cover artist: Dennis Shorty | "My dad and our dog team"
Published online August 3, 2018 and in print September 2018
Number 46 | 2017
https://doi.org/10.22584/nr46.2017.100 
Northern Literature
Guest edited by Maureen Long, Eric Heyne, Andrew Richardson & Jamella Hagen
Cover artist: Lara Melnik  |  un petit bouchon
Published online December 2017 and in print January 2018
Number 45 | 2017
https://doi.org/10.22584/nr45.2017.004
Innovation in the Circumpolar North
Guest edited by Heather Hall
Cover artist: Jennifer Eakins. Icefield Discovery Camp, in the shadow of Mt. Logan, Kluane National Park, Yukon.
Published online June 29, 2017
Number 44 | 2017
https://doi.org/10.22584/nr44.2017.100
The North & The First World War
Guest edited by Brent Slobodin & Ken Coates
Cover Photo: A large crowd greets Captain George Black, Commissioner of the Yukon, when he returns to Dawson City, 8 June 1916. Gates Collection.
Published online and in print April 2017

Number 43 | 2016
Includes special collection Nursing Education in the Circumpolar North
Guest edited by Heather Exner-Pirot
Cover artist: Lianne Marie Leda Charlie, Wolf Clan, Tagé Cho Hudän | Big River People
"Tagé Cho | Big River"
Published online December 5, 2016

Number 42 | 2016
https://doi.org/10.22584/nr42.2016.100
Includes special collection Northern Inequalities: Global Processes, Local Legacies
Guest edited by Andrew Hodgkins and Barret Weber
Cover artist: Mrs. Annie Smith, "Women's Mitts"
Published online July 6, 2016
Number 41 | 2015
https://doi.org/10.22584/nr41.2015.100
Resources and Sustainable Development in the Arctic
Guest edited by Chris Southcott
Cover photo: Syd Cannings

Number 40 | 2015 
General issue
Cover artist: Nicole Bauberger, Detail from "Whitehorse to Inuvik, #17"
Number 39 | 2015
Consultation and Resource Development in Northern Communities: Russia, Scandinavia, and Canada
Guest edited by Greg Poelzer
Articles also available in Russian
Cover artist: Owen Munroe, "The Face of Force"
Number 38 | 2014
Includes special collection: Political and Economic Change in Canada's Provincial North
Guest edited by Ken Coates and Greg Poelzer
Cover artist: Daphne Mennell, "Wild Crocuses, First Kiss of Spring"
Number 37 | Fall 2013
Includes special collection: The Arctic Council, the EU and Polar Politics: Canada, France, Germany, Russia & the UK
Guest edited by Frances Abele, Carleton University
Cover artist: Stephanie Ryan, "Ben-My-Chree Gardens"
Number 36 (Fall 2012)
General issue
Number 35 (Spring 2012) 
Tourism and Travel in the Circumpolar North 

Number 34 (Fall 2011)  
General issue

Number 33 (Spring 2011)  
Canada's Role in the Circumpolar World

Number 32 (Spring 2010)   
General issue 

Number 31 (Fall 2009)   
Literary issue: Northern poetry, fiction, and essays 
Number 30 (Spring 2009)  
The Social Economy of Northern Canada 

Number 29 (Fall 2008) 
The Northern Research Institute. Fifteen years of building Yukon research capacity.

Number 28 (Spring 2008) 
Rapid landscape change and human response in the Arctic and Subarctic.

Number 27 (Fall 2007)
Festschrift in Honour of Aron Senkpiel.

Number 25/26 (Summer 2005) 
Includes special collection on governance in the provincial norths.
Please check our archives for content from Numbers 1 through 24.