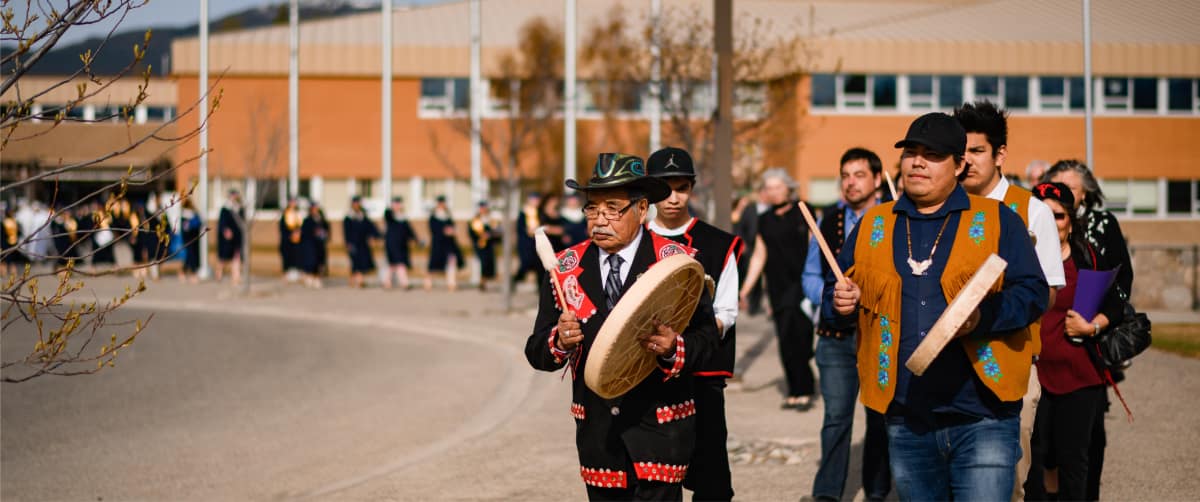 At Yukon University, we are shaped by our shared values and northern identity. We commit to being a welcoming, collegial and innovative learning community that is dedicated to promoting lifelong learning. We benefit Yukon, the North, Canada, and the world by creating, preserving and communicating knowledge through our teaching, research and scholarship.
Northern identity
Our programming and research are rooted in our northern identity. We are responsive to the needs of the North, and we equip students with the skills necessary to sustain a prosperous north. We are stronger when we partner with Yukon First Nations, Yukon communities, industry and governments, and when we work together to develop programming and conduct research. We value our northern environment, cultures, society and economies.
Innovation and discovery
We lead through exploration and innovation. We do not shy away from asking difficult questions in our commitment to the search for knowledge. Through innovative uses of technologies, integration across disciplines, and exploration of creative ideas, we empower students, staff and faculty to break new ground in learning, scholarship and research. Through a culture of informed risk-taking, we embrace change, opportunity and discovery, and view all our endeavours as opportunities to learn and grow.
Inclusiveness and diversity
Yukon University is a place of learning that is accessible and open to all. We respect all cultures, and the expression of all ideas and opinions, because diversity enriches our learning environment. We honour the cultures and heritage of Yukon First Nations, and we value the contributions of traditional knowledge and Indigenous world views.
Leadership and accountability
We value and promote leadership and accountability at all levels of the organization, including students, staff and faculty. We encourage every employee and student to demonstrate vision and courage when engaged in decision-making. We hold ourselves accountable for the fulfilment of all professional duties and obligations associated with our positions, in an open and transparent manner.
Integrity and academic freedom
Integrity, fairness and ethical behaviour guide all that we do. We provide honest and balanced assessments of the issues related to our institution. We believe in and promote academic freedom, research integrity and scholarly responsibility.
Health and wellness
The individual and collective contributions of our students, faculty and staff are integral to the health and success of our institution. We commit to respectful and honest communication, active listening and transparency. We support a healthy, positive and engaging environment, and celebrate the achievements of our students, staff, faculty and alumni. We strive to build sustainability into our daily operations and institutional culture.
Achievement and academic excellence
Our commitment to excellence in teaching, research and scholarship includes the learning and support systems that help students succeed. We are dedicated to providing students with diverse, flexible pathways and learning experiences. We foster a supportive, creative and collaborative learning environment that is learner-centered. We empower students, staff and faculty to achieve personal, professional and academic excellence.