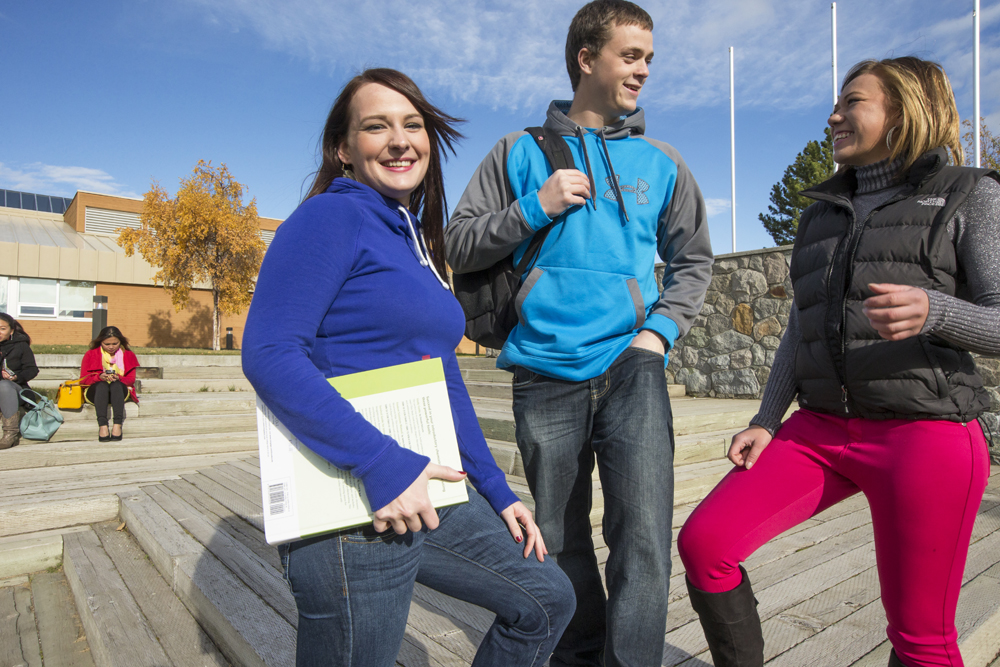 Learn about the world through a gendered perspective.
Open to all genders, the Women's and Gender Studies certificate and diploma look at the lives, contributions, and experiences of women, as well as the social construction of femininity and masculinity.
NOTE that even though applications to the programs are suspended while we renovate them, you can still study in the field. See the program description below and speak to a program advisor about choosing relevant courses.
COVID-19 and Women's and Gender Studies courses in Winter 2021
Yukon University has had to make changes to the way its courses are delivered as a result of the COVID-19 pandemic. The introductory WGST courses are unaffected as they are offered entirely online. We continue that tradition.
Please contact the School of Liberal Arts or a program advisor for assistance or for more information about COVID-19-related changes to the program and its courses.
Program description
The Women's and Gender Studies program focuses on materials by and about women, placing women's knowledge at the centre of the process and incorporating a number of academic disciplines—history, literature, sociology, psychology, anthropology and social work.
Because the program is interdisciplinary and cross-divisional in its approach, core courses appeal to students in programs beyond the School of Liberal Arts, particularly to students in the School of Health, Education and Human Services.
As well, the program presents an ideal continuing education opportunity for individuals now employed.
NOTE: While admission to the program is suspended, we continue to offer courses in the field. Students interested in Women's and Gender Studies are welcome to consider a Liberal Arts, General Studies, or Northern Studies diploma framework as a way forward. These certificates (LA, GS) and diplomas (all three) allow a significant amount of course choice that would permit a great deal of tailoring of emphasis. If you are interested in Women's and Gender Studies at Yukon University, speak to a program advisor about the possibility of an alternative pathway.
Admission requirements
Grade 12 graduation with English 12
If students do not meet either admission requirement, they should explore entry options with a program advisor.
Graduation requirements
To graduate with a certificate students must complete 30 credits, including:
ENGL 100 and ENGL 101

(6 credits)

Two WGST core courses (6 credits)

Four social-science required courses (12 credits)

Two WGST A-level required courses (6 credits)
Certificate students must
---
Diploma students must complete 60 credits:
All certificate requirements (30 credits)

One WGST core course (3 credits)

Five WGST A-level courses (15 credits)

Three WGST B-level courses (9 credits)

One open elective (3 credits)
Diploma students must ensure they
complete six courses (18 credits) at the 200 level or above

complete at least 50% of the work at Yukon University

maintain a cumulative GPA of 2.0 (C average).
IMPORTANT NOTE ABOUT ELECTIVES: Diploma students may take up to 12 credits from outside the School of Liberal Arts and School of Science; however, students must recognize that such coursework may not be transferable to programs at other post-secondary institutions and may result in a credit shortfall upon transfer. Students working towards a degree should check their course selection with a program advisor.
NOTE ABOUT SCIENCE ELECTIVES: As of May 2019 science elective courses no longer require labs. Please check with a program advisor to discuss options.
Yukon First Nations Core Competency
Yukon University recognizes that a greater understanding and awareness of Yukon First Nations history, culture and journey towards self-determination will help to build positive relationships among all Yukon citizens. As a result, you will be required to achieve core competency in knowledge of Yukon First Nations.
For details, visit Yukon First Nations Core Competency
Transferability
For transfer information on a specific Yukon University course, click the 'Check the BC Transfer Options' link on the course's information page. For additional information, consult a program advisor.
Money matters
Fees
Tuition for credit programs is calculated per course credit. See Money Matters for more information.
Some programs and courses have additional fees -  see Ancillary Fees.
---
Student financial awards
Education is an investment in your future, your family and your community. Yukon University is pleased to support that investment by offering some of the most competitive tuition rates in the country, as well as several student financial awards to help offset your educational and living costs.
---
Financial assistance
There are government programs, scholarships, bursaries, awards and First Nation funding available to financially support you throughout your academic career.
See money matters for more information, or talk to our financial advising staff in the Student Services Centre. Email or call 867 668 5209 to make an appointment.