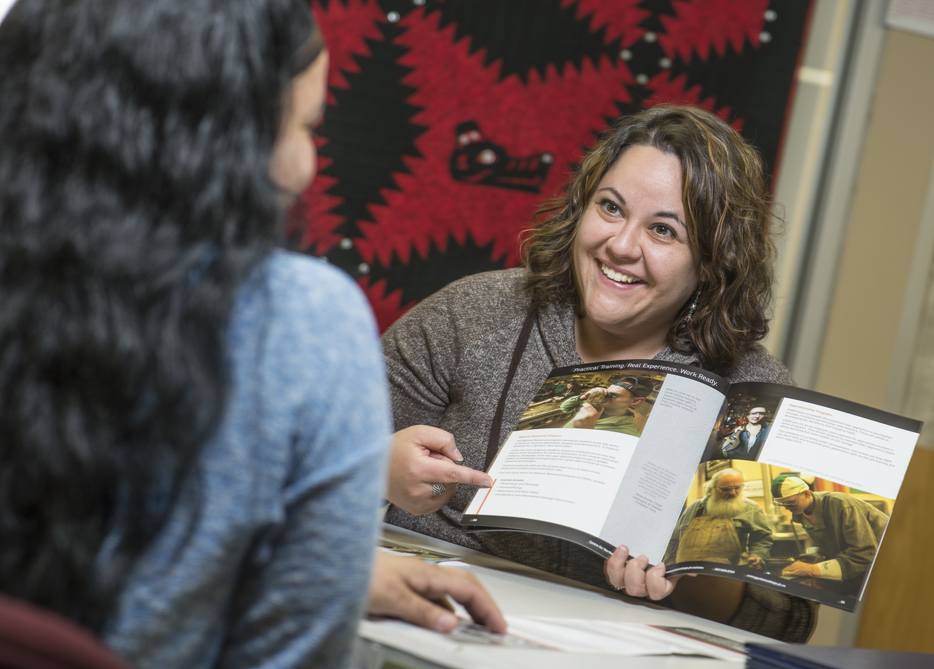 Develop skills for education and support roles in Yukon Communities.
Prepare for front-line education and employment support roles, from wherever you are.
COVID-Related Program Delivery Information
Courses in the Community Education and Employment Support Program will be delivered online this fall with some mix of scheduled Zoom sessions and other online activities in Moodle, YukonU's online learning platform. 
Online courses will require that you have access to your own computer and Internet connection. 
More information about the online platforms that will be used for fall instruction can be found at www.yukonu.ca/student-life/technical-resources
Students new to online learning are encouraged to take the brief online introductory workshop Distance Learning Success.  Contact the Academic Support Centre for more information:
www.yukonu.ca/student-life/learning-matters/academic-support-centre
Program description
Built in collaboration with Yukon's 14 First Nations, CEES is a unique, culturally relevant program that will prepare you to effectively function in front-line education and employment support roles.  You will gain the knowledge and skills required to support individuals through their education and employment pathways.
The program consists of 10, three-credit courses. The first course is offered face-to-face, while all other courses may be accessed through a combination of online and blended delivery options to allow students to access the program from their communities. 
Students will build knowledge and skills to apply in practice and will develop relationships with their cohort that will enhance resources, sharing, support, and mentorship opportunities.
Distance learning
Most CEES courses are delivered through a blend of scheduled class times and online activities. Scheduled class times can be attended through web-conferencing software. With the proper technical equipment and set-up, these courses can be accessed from anywhere.
Dedicated instructors, the Academic Support Centre team and Campus Coordinators are available to support your distance learning success. Free tutoring and study skills, and a one-day online distance learning prep course are also available.
Yukon First Nations Core Competency
Yukon University recognizes that a greater understanding and awareness of Yukon First Nations history, culture and journey towards self-determination will help to build positive relationships among all Yukon citizens. As a result, you will be required to achieve core competency in knowledge of Yukon First Nations.
For details, visit Yukon First Nations Core Competency
Graduation requirements
To receive a Yukon University certificate in the Community Education and Employment Support program, students must: 
complete all core courses 
complete one elective (3 credits) 
maintain a cumulative GPA of 2.0 (C average) 
complete a minimum 50% of courses through Yukon University. 
Career opportunities
The Community Education and Employment Support program will prepare graduates for increased capacity and employment in communities as front-line staff such as:
Community Education Liaison Coordinators (CELC)
Education Support Workers (ESW)
Education Outreach Coordinators (EOC)
Employment Training Officers (ETO)
The program is also an opportunity for employed individuals to take courses as part of their professional development plan.   
Money matters
Fees
Tuition for credit programs is calculated per course credit. See money matters for more information.
Some programs and courses have additional fees -  see Ancillary Fees.
---
Student financial awards
Education is an investment in your future, your family and your community. Yukon University is pleased to support that investment by offering some of the most competitive tuition rates in the country, as well as several student financial awards to help offset your educational and living costs.
---
Financial assistance
There are government programs, scholarships, bursaries, awards and First Nation funding available to financially support you throughout your academic career.
See money matters for more information, or talk to our financial advising staff in the Student Services Centre. Email or call 867 668 5209 to make an appointment.