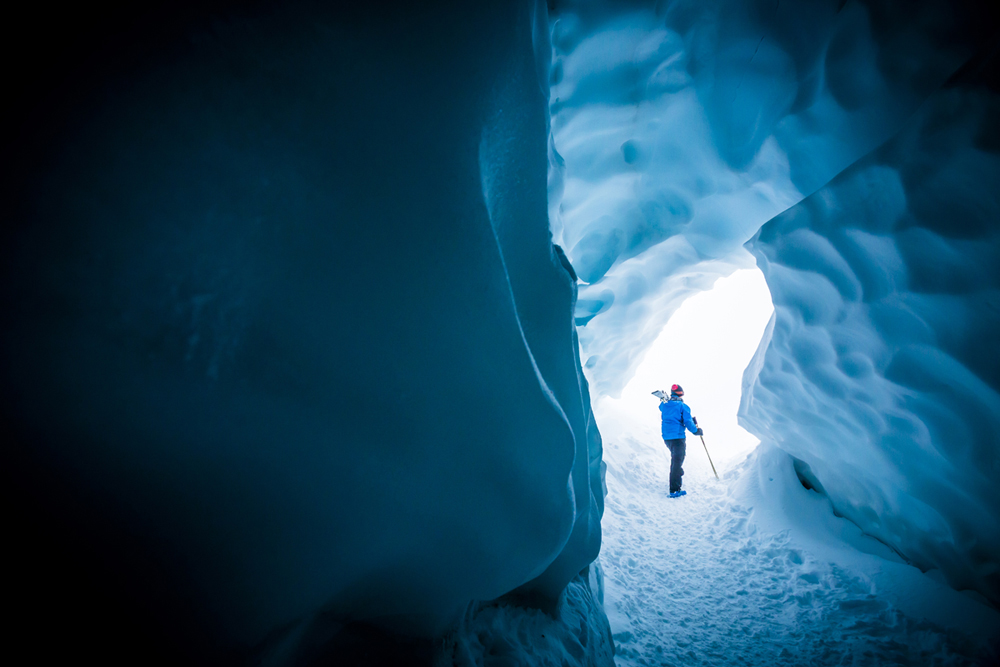 Be at the forefront of climate change decision-making.
Explore science, policy and Indigenous worldviews to understand the causes, economics and impacts of climate change.
Climate Change Policy Certificate and COVID-19
COVID-19 has disrupted many university activities, and the Climate Change Policy Certificate is suspended until Fall 2022. Applications for the next cohort will begin to be received in Fall 2021. 
The field school, which is intended to take place in person in the Yukon, may be replaced with a capstone project if COVID-19 precautions continue. Students in the program will be consulted on the shape and nature of the concluding course.
Program description
The Post-degree Certificate in Climate Change Policy exposes students to climate change science and its links to policy and policy makers.
The program offers a combination of theory and practice and will prepare students for careers in the field of climate change at the science-policy interface in a circumpolar, Yukon-focused context.
Emphasis will be given to the importance of understanding the scientific basis behind climate change and how these changes will impact natural and socio-economic systems.
Students will gain a solid knowledge of policy design and analysis and will learn to develop effective responses to the challenges that come along with these changes.
The extent and complexity of the problems mean that there are no simple solutions. One way to respond to climate change issues is to develop policy. Policy development must include scenario-specific analysis, design, development, implementation and evaluation.
Case studies focusing on the Yukon and, where applicable, Indigenous government settings, and or Indigenous communities, will inform policy development and decision making.
The content of the Post-degree Certificate in Climate Change Policy is inter-disciplinary and will underline the importance of communication, engagement and leadership.
The program concludes with a practical component, which will explore the nature and variety of responses to the issue at a regional level, with a focus on adaptation, mitigation and policy response within a northern context.
Admissions requirements
To be eligible for admission to the Post-degree Certificate in Climate Change Policy, applicants must meet ONE of the following criteria:
Completion of a four-year (or comparable) Arts/Science undergraduate degree from a recognized post-secondary institution.
At least five years of relevant professional experience.
Applicants who do not meet these requirements will be considered for flexible admission and need to demonstrate the following:
An acceptable alternative to an undergraduate degree.
A rationale explaining why they meet the expected skill set, based on their resume.
English is the primary language of instruction and communication at Yukon University. English language proficiency is expected.
It is possible to register for individual courses offered through the program; however, this option is limited to a maximum of two courses and excludes the field school.
---
International students
The Post-degree Certificate in Climate Change Policy is a one-year, part-time, online program involving a brief in-Canada component consisting of a two-week field school.  As such, Yukon University will admit an international student to the program who meets the admission requirements as outlined above.  The international student, however, will need to apply for a study permit to cover the two-week, in-Canada field school.  For more information on how to apply for a student permit please see:
http://www.cic.gc.ca/ENGLISH/study/index.asp
http://www.cic.gc.ca/english/study/study.asp
We strongly encourage students to apply for the student permit as soon as possible, ideally prior to registering for the program.
Graduation requirements
To be awarded the Post-Degree Certificate in Climate Change Policy students must
complete the four CCPC online courses (12 credits) and
complete the CCPC field school (3 credits)
In addition, students will need to 
Career opportunities
The curriculum develops skills and knowledge needed for professional employment in the public, private, and third sectors, including consulting companies, non-governmental organizations (NGOs) as well as academia.
Here are some examples:
Environmental consulting/monitoring and programs
Natural resource management
Food, water, energy security
Policy Analyst
Natural hazard management
Conservation
Teaching
Marketing and communications
Urban planning
Money matters
Fees
Tuition for the program is calculated per course credit, at $500/credit.
The ancillary fee for the field school is up to $1,350 and can vary each semester.
For more details on tuition and ancillary fees speak directly to the Program Coordinator/Instructor.
---
Student financial awards
Education is an investment in your future, your family and your community. Yukon University is pleased to support that investment by offering some of the most competitive tuition rates in the country, as well as several student financial awards to help offset your educational and living costs.
---
Financial assistance
There are government programs, scholarships, bursaries, awards and First Nation funding available to financially support you throughout your academic career.
See money matters for more information, or talk to our financial advising staff in the Student Services Centre. Email or call 867 668 5209 to make an appointment.