Yukon College receives CanCode funding through Actua to expand digital programming for youth
January 22, 2018
Today Actua, the national organization that represents YC Kids' Camps at Yukon College, was named the largest recipient of funding from the Government of Canada's new CanCode program.
Announced in the 2017 federal budget, CanCode is a $50 million dollar fund that is supporting the development of coding and digital skills for youth across Canada.
As a network member of Actua, YC Kids' Camps is pleased to be receiving $135,000 of Actua's $10 million CanCode funding across 2018 and 2019. This will go towards scaling up Yukon College's community programming to reach even more youth throughout the Territory with inspiring, hands-on coding and digital skills experiences.                                                                                          
"We are grateful to Actua's enthusiastic support for science, technology, engineering and math (STEM) skill development in Yukon and for this new opportunity to engage Yukon youth in actively developing coding skills," said Dan Anton, Department Head, Continuing Education and Training at Yukon College. "We are excited to be delivering new CanCode camp options to Yukon communities this spring and summer, in addition to our established annual science, trades, and technology expedition camps for 5 to 15-year-olds."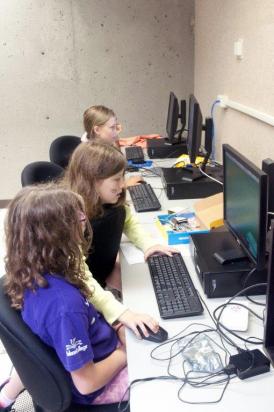 YC Kids' Camps is one of 35 network members receiving CanCode funding through Actua and will work with colleagues across the network to develop and exchange content that will help inspire Canada's next generation of innovators.
"We are honoured to be a recipient of CanCode funding and thrilled to provide additional support to Yukon College to engage more youth in building digital skills," said Jennifer Flanagan, President and CEO of Actua. "This support means that thousands more youth in Yukon will have the opportunity to access free, deep-impact, face-to-face learning experiences which are critical to their future success and our future Canadian workforce."
Actua's 35 network members will reach 500,000 youth and over 10,000 teachers across every province and territory with CanCode funding.
About YC Kids' Camps at Yukon College: Each summer YC Kids' Camps offers a series of weekly, fun-filled educational camp experiences to over 350 youth throughout Yukon communities. The goal of the camps is to provide youth aged 5-15 with a positive, active, engaging opportunities to develop practical skills across the thematic areas of science, trades, and technology. YC Kids' Camps are supported through annual investments from the Yukon Education and Actua.
About Actua: Actua is Canada's leading science, technology, engineering and mathematics
(STEM) youth outreach network representing 35 university and college based members. Each year 250,000 young Canadians in over 500 communities nationwide are inspired through hands-on educational workshops, camps and community outreach initiatives. Actua focuses on the engagement of underrepresented youth through specialized programs for Indigenous youth, girls and young women, at-risk youth and youth living in Northern and remote communities. Actua's major funders include: Government of Canada, Google Canada, Suncor Energy Foundation, GE Canada, the Natural Sciences and Engineering Research Council of Canada, Ontario Trillium Foundation, Finning, Toyota Canada Foundation and Lockheed Martin. For more information about Actua, visit actua.ca.
About CanCode:  The CanCode program will invest $50 million over two years, starting in 2017-18, to support initiatives providing educational opportunities for coding and digital skills development to Canadian youth from kindergarten to grade 12 (K-12). The program aims to equip youth, including traditionally underrepresented groups, with the skills and study incentives they need to be prepared for the jobs of today and the future. Canada's success in the digital economy depends on leveraging our diverse talent and providing opportunity for all to participate—investing in digital skills development will help to achieve this.
For further information, please contact: