Yukon Leadership Ambassador Award
Shellby Fulton wishes to make a $500 award available to a Yukon University student who is passionate about leadership.
Donor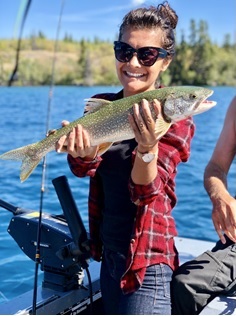 Shellby Fulton is a born and raised Yukoner from Faro. She acknowledges, with sincere gratitude, how support from scholarships and awards enabled her to reach success in both her studies and her career.
Her current pursuit of a Master of Arts in Leadership degree from Royal Roads University has so inspired her that Shellby created this award to support Yukon University students on their journey to becoming leaders in and for the Yukon, and beyond.
Eligibility
Be registered as a full-time student at Yukon University
Provide a brief essay (max. 500 words) outlining:

what leadership means to you
what studies you will be taking at Yukon University
how your field of study will help you better your leadership skills
what specific goals you have that will promote leadership and create more leaders in Yukon
Requirements
NOTE: Preference will be given to students from Yukon.